THE WILDLIFE ART OF MARTIN RIDLEY
- field encounters which provide my inspirations
- resulting sketches & preparatory drawings
- artwork stages through to completion
- extensive archive gallery of wildlife paintings
- original & reproduction wildlife art for sale
- licensing of artwork for reproductions


Creative Process Revealed
Welcome to the online gallery of artist Martin Ridley.
My specialist area is British wildlife and landscape paintings. Most of the original artwork is created using oils or watercolours.
Since early childhood I've been an enthusiast of the natural world and my paintings are an expression of this. Through painting I aim to create a variety of stimulating visual images that originate from my day-to-day experiences and knowledge of the natural world.

I draw and paint birds, mammals and landscapes at locations all over Great Britain
UPDATED: 22nd July 2014
This website has been on the internet since the year 2000. There are frequent updates of new pictures as I display my current drawings and paintings using digital camera shots. Please revisit every few weeks, I'm sure there will be some fresh images for you to look at.
The most frequently updated section is the "on the easel" page. You might also like to visit my other website www.wildlife-art-paintings.co.uk
Join me on Facebook.
http://www.facebook.com/ridley.wildlife.art
Please "LIKE" the page to receive my updates.
"River Crossing", Red Deer Stags
Original oil painting
image 26 x 46 inches
View Painting in Frame
£POA For Sale Currency Converter
Golden Eagle over the Sron Riach ridge, Ben Macdui
Original oil painting
image 36 x 50 inches
£14750, Sold 7/7/13 Currency Converter
NEW BOOK LAUNCHED
DEER: ARTISTS' IMPRESSIONS
I'm excited to have been involved in a new book published by Quiller Press. The book includes work from the following artists; Owen Williams, Jonathon Sainsbury, Keith Sykes, Rodger McPhail, Ian MacGillivray, Ben Hoskyns, Ashley Boon and myself.

Exert from the back cover
"... each artist explains in his own words why he cherishes painting deer in the wild and portrays the deer in his own unique style, from delicate pencil drawings to vivid watercolours and luxurious oils. All this is complemented with an extensive description by Graham Downing of each of the six British deer species - Red, Roe, Fallow, Muntjac, Chinese water deer and Sika
Royalties from the sale of the books are being donated to celebrate the 50th anniversary of the British Deer Society."
Forthcoming Exhibitions
Each year I take part in a number of exhibiting events. In 2010/2011 I showed at The Royal Highland Show, The Scottish Game Fair, Perthshire and a joint exhibition at the Donald Watson Gallery, Waterston House, the Scottish Ornithological Society's headquarters. In London there is the annual Society of Wildlife Artist's exhibition at the Mall Galleries . Full details are available on my events calendar page.
In 2012 events include The Scottish Game Fair and Perthshire Open Studios.

BIRD ARTISTS OF THE WORLD
Tryon Gallery, 7 Bury Street, London SW1Y 6AL
13th - 23rd November

How to Commission a Painting
Perhaps you would like a special piece of artwork to remind you of an experience or as a gift for someone with a particular interest. Please read the advice on how to commission a painting and contact me to discuss any ideas that you have. I regret that I do not undertake any commissions of domestic animals or human portraits.
The "on the easel" page is used to share the creative process with my clients. They can follow the progress of their commission on-line and are sent an email whenever the page has an updated camera shot of their artwork. This idea is proving very popular and saving or printing the images of the developing painting from the web page adds a little extra to the provenance of the finished painting.
Clients sometimes ask me whether I would contact them if I ever produce a painting of a particular bird, animal or location. Please feel free to register your special requests. I cannot make any promises but if at a later date I generate any suitable work I'll get in touch.
On The Easel
View paintings in progress on the "on the easel" page.
OIL PAINTING IN PROGRESS
Compositional Drawing


Pink-footed Geese
Original oil painting
image 24 x 32 inches
Special Commisssion, Sold
NESTING SEASON at ROSSAL
TAWNY OWLS
I put up two tawny owl boxes in March 2012. The one illustrated above is my own Heath-Robinson construction made out of two plastic buckets. One I'm proud to say was recycled from washed up debris on the shoreline of Mull, whereas the second I must concede was "borrowed" from Jill's gardening equipment. The box was used as a roost within a couple of months and the owl can be seen in there most days, hopefully the box will be used for nesting in future years.
Swifts
This "swift year" has really taken off. There are two broods monitored by cameras, but more significantly the colony on Rossal has jumped from three occupied nest sites to six. There are now five occupied nests across the wall of my studio. Two nest boxes are even inside the workspace just above the window. Regarding current affairs these swifts are probably the best informed courtesy of the frequent drone of radio 4 in my studio, although they haven't passed on any tips on how to solve the Euro Crisis. They seem content with an eclectic mix of music, although their own tunes collection all sounds very similar to me! Please click the newspaper article to enlarge it as a PDF file. If you require a PDF reader download Adobe Acrobat

Swallows
Sadly this year the previous nesters failed to return, but we do have a new pair nesting under the deck they have fledged five young in a woodcrete mould nest cup.

Nuthatches
Now this is quite a sighting this far north. I saw one in the garden three years ago, but this time a pair suddenly appeared. They are nesting in a neighbour's garden which is a significant record for Perthshire.

Starlings
Six young were raised very efficiently in the box next to one of the pairs of swifts
Catch up on the story so far Nestbox News


Download video clips of our nesting birds
2011 Swift Nest Video Clips
Press-ups by the young swifts to tone their flight muscles ready for take-off. They need to be in perfect condition as their maiden flight will last for 4-5 years until they select nest sites of their own.
Swift press-ups
(File size 14 MB)
Swifts in the nest chamber 2010
First inspection 8th May
Leaving chamber
(File size 15 MB)
Mutual preening
Feathering the nest
(File 8.5 MB)
Beak full of grass
(File 10 MB)
Nest building using saliva
Swift fighting intruder
(File 15 MB)
Screaming contest with intruder
(File 15 MB)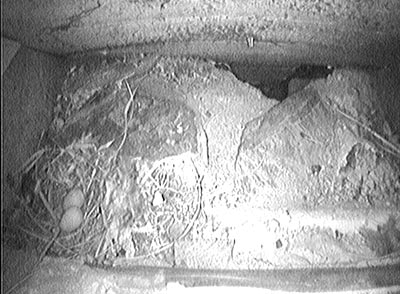 Unfortunately after the eggs had only just been laid another swift desperately searching for a nest site of its own managed to enter the nest chamber. In the morning the eggs had been swept from the nest during the scuffles and were broken. Each year we see swifts unable to find their own nest sites. Reduced nest site availability is considered one of the major problems causing the crash in our population of swifts. See if you can help swifts Fortunately the swifts managed to lay a second clutch which hatched on 21st June.

Previously swifts nested at "Rossal" in 2008.

2008 clips
1st Egg 2nd June
Swift chick just a few hours old
12 day old chick and both parents
16 day old chick flapping wings
View clips of the 2008 chick as it developed... Nestbox News
The chick was ringed and finally flew on 29th of July after its parents had already departed for Africa.