NESTBOX NEWS - THE STORY SO FAR
2005 Season
"Rossal" faces a make-over
As spring unfolded it was obvious that the site was not going to attract many nesting birds, although one species the swifts continued with their nesting as usual. As the build dragged on our thoughts were of future seasons, of a time when the building-site would be gone! During the course of the construction we seized the opportunity to incorporate some bird friendly features into the fabric of the building that we in turn could take pleasure from observing in future years.
Swift Nestboxes in the loft
I used some home crafted concrete molds to make bricks that provide entrance tunnels through the exterior wall. These allow access to the roof space where I have located two swift nest boxes.
2006 SwiftS
The exciting news is that in 2006 juvenile swifts started flying up to the gable end of the house looking for entrances into the building. They have not exactly worked out where the nest holes are but playing a seventy minute CD of flirtatious swift calls out through the holes and pining a very attractive cardboard cutout on the wall seems to have attracted their attention! I'm not a fan of cardboard cutouts myself but if you are a single swift...? Unfortunately at the end of the season the swifts had still not found the holes. They are notoriously poor at finding new nesting locations. They were flying up too high and exploring along the slate line so I have decided to add a mock-gutter level with the top of the holes for 2007. This theoretically will give them something to explore under as they do on the front of the house.
Garden nest boxes
In a bid to increase nesting opportunities in the garden I currently have seven other nestboxes. The gable end of the garage is now adapted to encourage swallows and I've added swallow nesting ledges in the porch and under the garden deck.
2006 Blue Tits
This season has resulted in two broods of blue tits and one of great tits. The great tits took over a sparrow colony nestbox and fiercely chased off all interested sparrows.
2007 Good and bad news for swifts
The good news is that the gutter above the nest holes gave the prospecting birds something to aim at and on 3rd June a pair of swifts found the entrance hole and occupied the nest chamber. They were too late to breed in 2007 and were probably juveniles. Immature birds normally just occupy a nest site and build their pair bond ready to get on with breeding the following year.
Overall 2007 was a dire year for swifts. Nationally they raised about a half of their usual number of fledglings. The very wet weather was poor for insects and consequently a poor season for swifts, which feed exclusively by trawling for insects on the wing. At the beginning of August two swift chicks bailed out of their nests prematurely because the parents were unable to bring sufficient food. I rescued one bird and with some advice gained from sources on the internet decided to attempt hand-rearing the bird.
House crickets twelve meals per day!
The first night I was camped downstairs feeding the chick every hour and a half. Such a weak bird can only take small feeds but they need to be given regularly to revive it. If you can imagine me catching flies by every means possible you get a picture of my preoccupation over the next couple of days until a postal delivery of live house crickets and other goodies provided a more reliable supply.
Fifteen days later and our swift was looking ready to go. Advice suggested the swift would only leave if it was ready. It should make the decision. We checked the weather for a favourable forecast. Things looked perfect. There was a tail wind all the way to France and settled warm conditions for several days ahead.
Jill and I gathered a stepladder to go down to a field (a safe spot for a maiden flight). Our intention was to as recommended use the ladder to offer an elevated takeoff platform. On the way to the field I placed the swift on a rug laid on the lawn in order to take a final photo. As it turned out I only got one photo as the swift calmly looked around and confidently made a vertical takeoff circling past our bedroom window and up over the garage. Only a fit adult bird is supposed to be able to take off from the ground so it was an impressive achievement!
You can learn more about swifts below:
http://www.swift-conservation.org/
2008 Season
Six nestboxes are occupied; one with swifts, a brood of great tits and four with blue tits. We also witnessed a pied fly-catcher investigating one of the boxes (unfortunately already occupied). Tawny owls used the box just outside the garden and a teal duck nested in the wood amongst the bracken. A wren has built a nest on the ledge that I put up to attract swallows.
2008 SWIFTS
Download video clips of our nesting swifts

Swifts in the nest chamber
Mutual Preening
Screaming
1st egg 2nd June
2nd egg spilled from the nest 8th June
Nest now well lined 20th June
Chick hatched 22nd June - Chick Calling
Just a few hours old
Home alone?
Chick on day two - 23rd June
7 days old - adult feeding chick
9 day old chick flapping
11 day old chick - adults changinging over and feeding (File size 7 MB)
12 day old chick and both parents
16 day old chick flapping wings
Mistaken identity - minor scuffle after feed (File size 13 MB)
17 day old chick - feed both adults in chamber
The chick was ringed on the 8th of July when it was 16 days old.
Adult with full crop feeding 18 day old chick (File size 9 MB)
Big feed 23 day old chick (File size 14 MB)
Powerful exercising - 23 day old swift chick
Swift family - chick 29 days old (File size 7 MB)
Exercising chick at 31 days (File size 7 MB)
2009 Season
The first 2009 swift was seen over Rossal on 10th May. We had two pairs of swifts breeding at Rossal in 2009 unfortunately neither used the nestbox with the camera.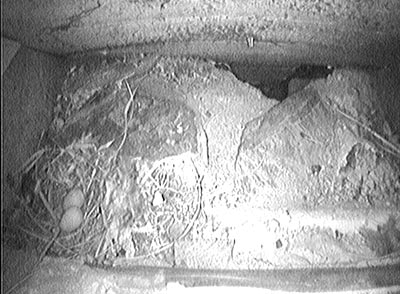 2010 Season Swifts were first seen over the house on 28th April.
Download video clips of our swifts in the nest chamber

First inspection 8th May
Leaving chamber (File size 15 MB)
Mutual preening
Feathering the nest (File size 8.5 MB)
Beak full of grass (File size 10 MB)
Nest building using saliva
Swift fighting intruder (File size 15 MB)
Screaming contest with intruder (File size 15 MB)

Unfortunately after the eggs had only just been laid another swift desperately searching for a nest site of its own managed to enter the nest chamber. In the morning the eggs had been swept from the nest during the scuffles and were broken. Each year we see swifts unable to find their own nest sites. Reduced nest site availability is considered one of the major problems causing the crash in our population of swifts. See if you can help swifts Fortunately the swifts managed to lay a second clutch which should hatch around 21st June.
STARLINGS then more swifts
The nest chamber used by swifts in 2008 attracted starlings in 2010.

Starling pair nest building (File size 10 MB)
Starling turning eggs
First record of feeding chicks 15th May
Starling feed
Startling double feed (File size 7.5 MB)
Finding an open bill in the dark
Food calls
Very hungry chicks
Who has been getting all the food? (distortion caused by camera lens)
On 4th June another pair of adult starlings entered the nest and eyed it up for their own purposes. You can hear the chicks alarm calls.
Exploring intruders (File size 8 MB)
Nest box eco-fan
Up close
One starling chick had gone by the morning of the 5th the remaining three fledged a day later. I cleaned out the chamber immediately and within 10 minutes an adult starling was looking around, by lunch time a swift had explored the interior of the box. It soon brought a partner and they are now occupying the box each night.
The nest chamber used by starlings at the start of the 2010 season was used by swifts immediately afterwards. I have attached a different entrance hole to prevent other species from entering. There is an unrestricted box a few feet away.

Once again swift nest sites are being fiercely contested.
Intruding swift (File size 14 MB)
Result of fight with intruder (File size 15 MB)
I first thought that a bird had acually been killed.

In the clip below the bird on the right is nuzzling up to its partner lying exhausted in the foreground, but in the dark it starts making non-aggressive bonding type greetings to the bird that fought its way in.
Confused swifts

I could make out the breathing of exhausted bird. It took half an hour for it to move more significantly and I'm pleased to say that it has made a full recovery.
Recovery of swift (File size 15 MB)


SWIFT FACTS
Swifts tend to be lumped together with swallows and martins. In actual fact their closest relatives are humming birds. When the chick leaves the nest it will never return to this location. It will have to fly immediately and not just around our neighbourhood but all the way to Africa. It will probably not land for a couple of years!

Swallows
Following years of trying to attract swallows they finaly nested at Rossal in 2010. After much indecision and several location changes a nest has been built under the back porch of the house. This pair have no comprehension of the consideration that has been given to their every need. The swallows initially were struggling to find suitable nest building mud due to the dry weather but readily took to using a pool of mud mixed up on a sheet of polythene. I added grass clippings and dog hair to reinforce the mixture. It was fascinating watching how they first collected some dried grass and then a scoop of mud.
Other Species
Other nest boxes were used as follows:
Blue tits 4 pairs
Great tits 2 pairs
Robin 1 pair
Blackbird 1 pair
Spotted flycatchers started building a nest but abandoned
2011 NESTING SEASON at ROSSAL
Swifts
There are three nests with two monitored by cameras. The season started very late as poor weather prevented the birds getting into condition for egg laying. Both broods of two chicks are less developed than at the same time last year.
2011 Swift Nest Video Clips
Press-ups by the young swifts to tone their flight muscles ready for take-off. They need to be in perfect condition as their maiden flight will last for 4-5 years until they select nest sites of their own.
Swift press-ups (File size 14 MB)

Swallows
This year we nearly had three pairs settle to nest. In the end it was two pairs. The most advanced, hatched five young in the previous year's nest, but abandoned them due to the continuing bad weather. The other pair used a woodcrete cup placed in our garage and fledged three young.
Spotted Flycatchers
Now this is another addition to our garden list of breeding birds. They are now on a second brood. I did not see the first brood fledge, but hope they made it!

Starlings
Five young were raised very efficiently in the box next to one of the pairs of swifts

Treecreepers
This is the first time that I've come across a treecreeper nest. They were using a rotten silver birch trunk peppered with Great Spotted Woodpecker nesting holes. By coincidence I had just placed a treecreeper box on a tree nearby.


2012 NESTING SEASON at ROSSAL
TAWNY OWLS
I put up two tawny owl boxes in March 2012. The one illustrated above is my own Heath-Robinson construction made out of two plastic buckets. One I'm proud to say was recycled from washed up debris on the shoreline of Mull, whereas the second I must concede was "borrowed" from Jill's gardening equipment. The box was used as a roost within a couple of months and the owl can be seen in there most days, hopefully the box will be used for nesting in future years.
Swifts
This "swift year" really took off. There are two broods monitored by cameras, but more significantly the colony on Rossal jumped from three occupied nest sites to six. There are now five occupied nests across the wall of my studio. Two nest boxes are even inside the workspace just above the window. Regarding current affairs these swifts are probably the best informed courtesy of the frequent drone of radio 4 in my studio, although they haven't passed on any tips on how to solve the Euro Crisis. They seem content with an eclectic mix of music, although their own tunes collection all sounds very similar to me! Please click the newspaper article to enlarge it as a PDF file. If you require a PDF reader download Adobe Acrobat

Swallows
Sadly in 2012 the previous nesters failed to return, but we do have a new pair nesting under the deck they have fledged five young in a woodcrete mould nest cup.

Nuthatches
Now this is quite a sighting this far north. I saw one in the garden three years ago, but this time a pair suddenly appeared. They are nesting in a neighbour's garden which is a significant record for Perthshire.

Starlings
Six young were raised very efficiently in the box next to one of the pairs of swifts
Catch up on the story so far Nestbox News